Quick Class
Available on some controllers, Quick Class configs are not actually constant set tables, however some of them do open up constant set options. 

Quick Class Configuration Table

| | |
| --- | --- |
| Column | Description |
| Order | Allows for quick rearranging of camera order. Right clicking on drag will allow for deleting the row. |
| Mute | Allows for removing access to a specific camera or to leave a blank spot on the panel |
| Binding | Allows for the selecting of a specific connected camera |
| Device Number | Ties the camera selector to the specific device. This is found in the Devices section. Each device will have a unique device number per device core. This box should auto-populate when a camera is selected in binding |
| Device Name | Enter the name of the device being connected. The name can be found in the device details. |
| Quick Class Config | Selects the needed configuration based on the device being connected. |
| Constant Sets | Opens up Constant Sets tables depending on the selected Quick Class Config |
Example of Quick Class Configurations
Quick Class configurations are available for select sections of 6 buttons. These are generally associated with specific devices.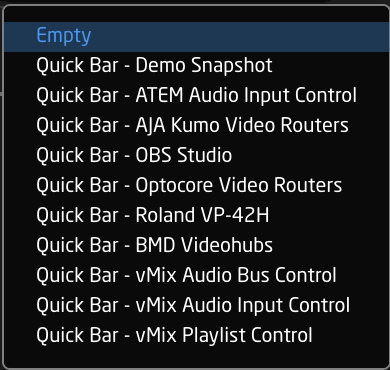 Constant Set Examples
Constant sets tied to quick classes can include, but are not limited to, Switcher Inputs, Routing Panels, and Playlists. Please see the constant sets example for the option presented with the selected Quick Class Config.